January 28, 2019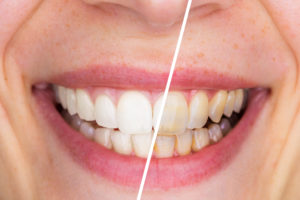 You probably already know that many people find whiter teeth more attractive, but did you know that the appearance of your smile could be connected to your professional success? According to an extensive study that included simulated interviews, participants were more likely to be hired and received larger salary offers after their teeth had been whitened. Whether you want to climb the ladder of your career or just feel more confident about your teeth, professional teeth whitening can transform your smile Although it is a fairly simple treatment, there are a few guidelines patients should follow afterward. Here are the do's and don'ts after teeth whitening in Corpus Christi.
How Professional Teeth Whitening Works
Many products on the shelves of the local supermarket promise to deliver a whiter smile, but no over-the-counter product can compete with the dramatic results of professional teeth whitening. When partnering with a cosmetic dentist in Corpus Christi, there are two main teeth whitening options:
At-home teeth whitening – Whiten your teeth when it is most convenient to you. Your dentist will create impressions of your teeth and gums to fabricate stone teeth models, which are used to create custom-made clear trays. Just apply a special whitening gel to the trays and wear them at home as directed, and your smile will soon be several shades brighter!
In-office teeth whitening – Want immediate results? Then in-office teeth whitening is for you. Your dentist will apply a powerful, highly-concentrated teeth whitening material to your teeth to reach the shade of white you desire. After just a single visit, you can walk out the door with a more confident smile than when you arrived.
Foods and Drinks to Avoid
For the 24 hours following professional teeth whitening treatment, you should stay away from certain foods or drinks that could stain your teeth. As a general rule, any food or drink that would leave a stain on a white t-shirt could also discolor your teeth. Some specific foods to avoid include:
Pasta with red sauce
Soy sauce
Red meat
Chocolate
All fruit except bananas
Meanwhile, opt for water over dark staining drinks like these:
Red wine
Coffee
Black tea
Fruit juice
Dark liquors
What Food Can I Eat?
The list of "cannot-haves" may seem quite extensive, but do not worry! There are plenty of foods and drinks that you can consume immediately after receiving teeth whitening treatment. Many of the foods that are safe to eat are white in color, just like your new smile! Foods such as:
Skinless chicken or turkey (without the fat)
White pasta
Egg whites
Bananas
White rice
White cheese
When you pour yourself a glass of something to drink along with your meal, make sure it is a clear or light drink, like:
Still or sparkling water
Skimmed milk
Clear coconut water
Tonic water
Clear alcohol (e.g., gin or vodka)
If you are ready for the boost in confidence that a bright, white smile can bring, talk to a cosmetic dentist in Corpus Christi today!
About the Author
Dr. John T. Thompson has been providing Corpus Christi residents with high-quality dental care for over 30 years. A passionate dentist who works with patients to meet their unique dental needs, Dr. Thompson was nominated for Texas AGD Dentist of the Year in 2016. Patients who want to brighten their smiles can visit his website or call the office at 361-242-3151.
Comments Off on The Do's and Don'ts After Teeth Whitening in Corpus Christi
No Comments
No comments yet.
RSS feed for comments on this post.
Sorry, the comment form is closed at this time.