Meet Your Corpus Christi, TX Dentist
John T. Thompson, DDS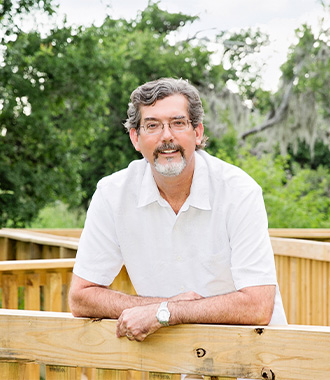 Dr. Thompson has proudly offered high-quality dental care for Corpus Christi residents since earning his doctorate of dental surgery from the Baylor College of Dentistry in 1985. Prior to that, he received a BA in Biology from the University of Texas at Austin. He is passionate about caring for patients, and takes time to understand their unique dental needs and goals. Never one for the "hard sell," Dr. Thompson works as a partner with his patients to help them achieve and maintain their healthy smiles. However, our practice isn't like every other dentists' office you've visited. We love to see our patients smile, and we laugh and joke with them to make them feel like part of the family.
Each year, Dr. Thompson and his team complete numerous hours of continuing education in order to stay abreast of all the advances in the field of dentistry to ensure we offer our patients the highest quality care. He was awarded Fellowship in the Academy of General Dentistry, an honor that places him in the top 7% of all dentists. Additionally, Dr. Thompson is active in a local dental study club, and he maintains memberships in the Academy of General Dentistry and the Texas Dental Association. Dr. Thompson has served as President of the Nueces Valley District Dental Society, The Corpus Christi Dental Study Club, the South Texas Academy of General Dentistry and currently is proud to serve on the Texas Dental Association's Board of Directors. He was among the nominees for Texas AGD Dentist of the Year 2016 and was honored by Texas Monthly Magazine as a 2018 and 2019 Texas Super Dentist.
In his spare time, Dr. Thompson enjoys hunting, fishing, diving, cattle ranching, and playing guitar. He is happily married to his wife, Caroline, and enjoys spending time with their daughter, Janelle.
More to Explore