Relax with Corpus Christi Sedation Dentistry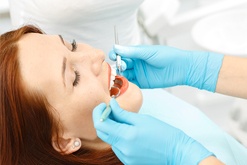 Visiting the dentist may not be the most pleasant occasion, but at the Corpus Christi dentistry practice of, John T. Thompson, DDS, our team members go above and beyond to offer gentle, attentive dental care that will keep you completely comfortable throughout your time in our office. If you experience dental phobia or anxiety, our caring dentist and dentistry team would love to have the opportunity to help you change your mind about visiting the dentist. From the moment you arrive in our Corpus Christi office, we will do our utmost to ensure you are at ease and able to receive the care you need without unnecessary stress and pain. In addition to our kind, gentle approach to dental care, we are also happy to offer dental sedation options to keep any patient completely comfortable. If you want to learn more about sedation dentistry or any of our other dental treatments, call Dr. Thompson and his Corpus Christi dentistry team to schedule an appointment today. We look forward to seeing you soon.
Who Should Consider Sedation Dentistry?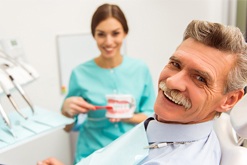 There are a number of situations where patients may benefit from the use of dental sedation, including:
Patients in need of advanced or complex dentistry services that may require them to spend long periods in our office
Patients who have sensitive teeth, gums, or gag reflexes making even minor dental treatments uncomfortable
Young patients who may not understand their treatment, which can cause unnecessary anxiety
Those with physical or mental impairment that makes dentistry treatments unsafe or uncomfortable
What Types of Sedation are Available?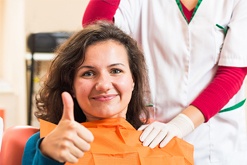 In our office, we provide patients with one of the longest used and still most popular dental sedation options – nitrous oxide. Commonly referred to as laughing gas, this form of sedation is inhaled through the nose during treatment, creating a calm, euphoric sensation. We can quickly adjust the dose of nitrous oxide at any time, allowing patients to maintain the optimal level of relaxation throughout any dentistry treatment. Best of all, nitrous oxide sedation wears away quickly. In addition to nitrous oxide sedation, we also offer local anesthesia to numb parts of the mouth before treatment.
What Should I Expect After Sedation?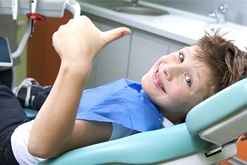 Following sedation with nitrous oxide, you can return to your daily routine almost immediately. The effect of nitrous oxide wears off just as quickly as it sets in, so you can go right back to work, school, or whatever's next on your busy schedule. Patients who need local anesthesia, should wait a few hours before eating as they may unintentionally injure the numbed soft tissue while chewing. If you feel sick, have a headache, or notice any other odd bodily responses to sedation or local anesthesia, please call our team right away. You may be having an allergic reaction or other health concern related to your dental sedation.