Dental Implants – Corpus Christi, TX
Complete Your Smile with Dental Implants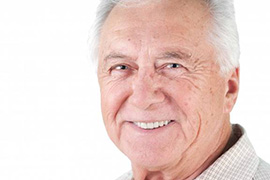 It's best to replace any missing teeth as soon as possible because every tooth is vital to your oral health and functions. The gaps will cause serious consequences for your dental health, overall wellbeing, and your self-esteem over time. Traditional bridges and dentures are effective options to stop the complications, but Dr. John Thompson always recommends dental implants in Corpus Christi. They are the only reconstructive solution that rebuilds the entire structure of your tooth. You'll enjoy seamless results that look and feel natural while lasting for countless years to come.
Benefits of Dental Implants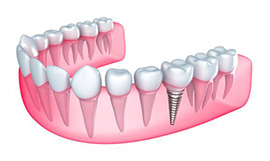 Dental implants are the only option for tooth replacement to substitute the entire missing tooth. This allows you to enjoy several advantages, including:
Over a 95% success rate.
Looks and feels natural.
Regain 70% of your natural biting force.
Preserves your jawbone.
Improves your oral health.
Supports your facial tissues.
Long-term solution.
Cost-effective.
Indications for Dental Implants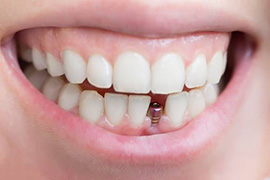 A dental implant consists of three components: a biocompatible implant post, a special connector piece called an abutment, and the restoration to mimic the crown of your tooth. The process varies depending on how many teeth you're treating.
Single Missing Tooth
The entire structure of the tooth is replaced using a single unit implant. It does not alter healthy teeth like a traditional bridge and crowns. It also stops dental drift to preserve your remaining teeth.
Learn More About Single Tooth Implants
Multiple Missing Teeth
Several consecutive missing teeth are replaced with an implant-supported bridge. Instead of using dental crowns to support it, an implant post at either end anchors it to your jawbone.
Learn More About Multiple Tooth Implants
All Missing Teeth
You can permanently eliminate slipping and irritation by securing your denture to your jawbone with dental implants. You can speak, chew, and smile confidently knowing your denture stays securely in place.
Learn more About Implant-Retained Dentures
Start-to-Finish Dental Implant Treatment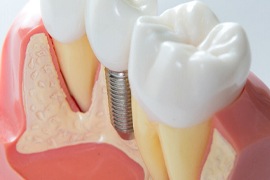 After your consultation and any additional treatment, Dr. Thompson will place your implant post into your jawbone right here in our office. You'll stay in a familiar and comfortable space instead of having to visit an inconvenient specialist.
Dr. Thompson administers a local anesthetic to prevent any pain during your procedure. He makes a small incision in your gums to reveal the bone. The post is strategically placed in your jaw to support your restorations. Finally, the site is sutured closed and you begin healing.
Through a process called osseointegration, your jawbone fuses with your natural tissue to create a quality bond. After adequate healing, you return to our Corpus Christi practice to have an abutment placed on your post to secure your custom-made restoration.
Understanding the Cost of Dental Implants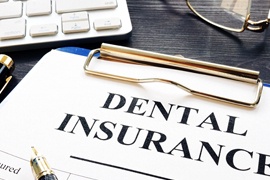 Dental implants cost more than traditional treatments upfront, but they are the most affordable long-term. They never need to be replaced if you care for them properly to save you money down the road. Your treatment is performed in multiple stages that have separate costs. This can make it easier to pay for your new smile. We also work with your insurance company to lower the amount you need to pay out-of-pocket. We discuss all your payment options to keep your new smile within your budget.
Dental Implant FAQs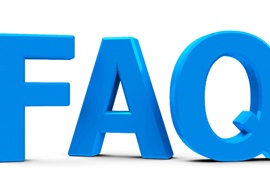 Choosing the right tooth restoration option is a big decision. You want to be sure you understand what you're getting into and that it will meet your needs. We couldn't agree more! We have answers to some common questions about dental implants to help you make the best choice.
What are the benefits of dental implants?
Because dental implants replace the entire missing tooth, not just the top portion, they offer certain advantages that dentures and bridges alone just can't. These include the following:
Stronger Bite: Implants are firmly integrated with the jawbone, so you can bite and chew healthy foods just as you did with natural teeth.
Better Oral Health: The jawbone stays strong with dental implants, preventing the bone loss that comes with missing a tooth.
Longer Lifespan: Dental implants can last for 30 years or even longer!
Increased Stability: You don't have to worry about your prosthetic teeth slipping or coming loose at inconvenient times.
How successful are dental implants?
Overall, dental implants are incredibly successful. In fact, 98% of dental implants are still functioning properly after 10 years. In part, this is a result of Dr. Thompson's due diligence before placement even happens, ensuring that you have the highest chances of success going to the procedure.
What can cause dental implants to fail?
Although most dental implants are successful, some fail either shortly after being placed or later down the road. You have an increased risk of failure if you don't have good oral health or enough bone density in your jaw when the implant is placed. Luckily, Dr. Thompson checks for these situations beforehand, helping you avoid potential failure. If you don't maintain your dental implants on a consistent basis, they can fail over time.
I am missing all my teeth. Can dental implants help me?
Absolutely! Just because you've lost all your teeth, it doesn't mean you need to live with an inferior smile. By strategically placing 4 to 6 dental implants, we can secure your dentures in place. You can choose to have them snap on to the posts to make them removable or permanently attached to the implants.
Maintaining & Caring For Your Dental Implants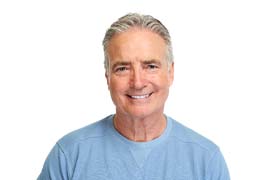 Your dental implants have the potential to last for the rest of your lifetime, giving you a strong, healthy set of teeth that you can count on. However, that's only as long has you take care of your new smile! Without proper protection, damage or infection can cause implants to fail. Thankfully, there are a few easy steps you can take for dental implant care in Corpus Christi. We've outlined them below!
Make Oral Hygiene a Priority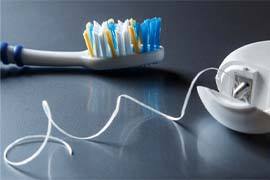 While your dental implants themselves cannot get cavities, it's still vital to care for your smile. Common oral health problems like gum disease and infection can cause your implant to fail. To avoid this, you should maintain a good at-home oral healthcare routine. The best part is that implants can be cared for similar to your natural teeth. Brush twice a day and floss once a day to clean away pesky plaque and bacteria that can cause problems for your implants. You can also use a nonalcoholic mouthwash to clean areas of your mouth that are difficult to reach with brushing and flossing.
Eat a Healthy Diet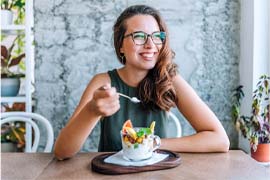 What you put into your body affects your oral health in addition to your overall wellbeing. What's great about dental implants is that they allow you to eat virtually anything you'd like. We recommend eating a healthy, full, and nutritious diet. However, do your best to avoid foods that are hard, sticky, or sugary – these can be problematic for your implants. Instead, eat a diet that includes calcium and vitamin C to keep your jawbone and gums as healthy as possible.
Break Bad Habits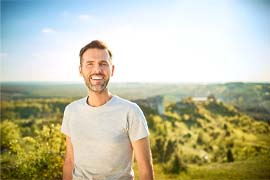 Your lifestyle choices can also impact the health and success of your replacement teeth. Smoking increases the risk of implant failure because tobacco use slows down the healing process while also promoting infection. Additionally, avoid using your teeth for anything other than eating, smiling, and speaking. Using your teeth as tools for opening packages or bottles is a quick way to damage your dental implant restorations.
Protect Your Dental Implants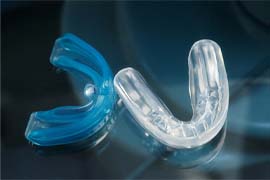 Dental implants are durable and designed to last for over 30 years. That said, they are not indestructible. It's up to you to protect them during sports or physical activity with a mouthguard. We have custom mouthguards that are comfortable to wear while also reducing the risk of dental injury. Additionally, if you suffer from bruxism (teeth grinding), it's important to wear a nightguard. This prevents abnormal wear and tear on your restorations while also relieving pressure on your jaw.
Schedule Regular Dental Checkups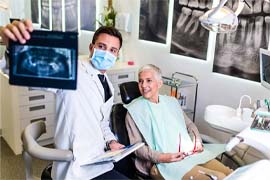 Make sure that you're visiting our office regularly for checkups and cleanings. Dental cleanings allow a trained hygienist to clean parts of your smile that you couldn't get to on your own. Checkups from Dr. Thompson ensure that your dental implants are healthy. He can catch any issues while they're early, saving you from extra time and money spent on your smile in the future.
Schedule an Appointment Today!
When you're ready, we would love to discuss dental implants further with you. If you have additional questions or you want to move forward with treatment, contact our office to schedule your consultation with your trusted implant dentist in Corpus Christi.