Full and Partial Dentures from the Dentist in Corpus Christi
After significant tooth loss, a full or partial denture completes your smile and renews your ability to eat and smile with ease. Your dentist in Corpus Christi provides the lifelike prosthetic devices in a matter of weeks -- learn more about full and partial dentures from Dr. John T. Thompson today.
What Is a Denture?
A denture is a set of prosthetic teeth set in a plastic base that looks like your gums. A complete denture replaces a full row of missing teeth in the upper or lower arch, and a partial replaces missing teeth when there is at least one healthy natural tooth remaining in the smile. The complete denture is held in place with natural suction, and a denture adhesive can provide additional security. A partial denture fits in like a missing puzzle piece with metal brackets or clasps.
The benefits of traditional dentures include…
A fast tooth replacement
Affordable
Natural-looking
Customizable
Easier eating and speaking
Implant-Retained Dentures
Traditional dentures are a highly effective tooth replacement option, but patients who are eligible for the dental implant procedure should consider the comprehensive solution. A denture retained by dental implants offers superior stability and can last for a lifetime with proper care. Dental implants come at a higher cost upfront and can take up to a year to complete, but they provide the most effective tooth replacement. Dr. Thompson will evaluate your smile and determine which method is best for you.
Denture Maintenance
Take care of your denture properly to keep it functioning properly for as long as possible. Clean your new teeth after each meal, and remove the denture during sleep. When it's not in use, soak the denture in water or a denture solution for additional cleansing.
To avoid damaging your denture, remember…
Never expose your denture to hot water
Do not brush the denture with regular toothpaste, which could scratch it
Place a towel on hard surfaces when handling your denture
Brush and floss any natural teeth before reinserting your denture
With proper care, a traditional full or partial denture can be expected to last around six or seven years before it will need to be replaced. Let your dentist know as soon as your denture becomes loose or uncomfortable.
Adjusting to Your Denture
When you begin wearing your denture, you may experience the following:
Excessive saliva production
Soreness or discomfort in the gums
Difficulty speaking normally
Discomfort while eating
Don't worry -- these symptoms are temporary! Keep wearing your denture as directed and you will adjust to your new teeth in a matter of several weeks. You can practice reading aloud to get used to speaking with dentures, eat softer food, and cut it into smaller bites to speed through the denture adjustment phase.
Denture FAQs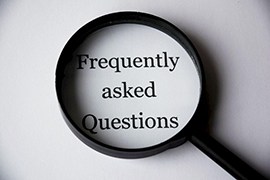 Dentures in Corpus Christi have been used for generations to restore beautiful, functional smiles, but they are a big investment. Most people have a few concerns before they are ready to commit to replacing their lost teeth, but there's no reason to worry. Here are the answers to a few frequently asked questions to calm your nerves until your denture consultation.
Can I sleep with my dentures?
No one wants to get caught without their teeth, but your denture dentist in Corpus Christi will recommend removing them nightly. Initially, you'll be instructed to wear them for 24 hours, but then you will need to get in the habit of taking them out before bed. Your dentures will restrict blood circulation to your gums that can lead to sores, inflammation, and infection, if they aren't given time to rest. Taking your dentures out will allow your gum tissue to get the nutrients they need to stay healthy. Not to mention, your mouth is dark and moist, which is the ideal environment for bacteria that can harm your oral and general health. It can also compromise the lifespan of your replacement teeth. You can keep your mouth and body healthy while also protecting your investment by taking your dentures out at the end of the day. Don't forget to clean them and place them in a soaking solution before calling it a night.
Do I use regular toothpaste to clean my dentures?
Although your dentures will mimic your real teeth, you can't clean them the same way. Toothpaste is abrasive, which can cause small scratches on your dentures. Not only can this tarnish their appearance, but the small crevasses can trap food particles and plaque. This can lead to unpleasant odors and shorten the lifespan of your prosthetic. Instead, it's better to use a soft-bristled toothbrush and mild hand soap or dishwashing liquid. You can also purchase OTC cleaning products designed for denture wearers. Place your dentures in a nightly solution to remove any bacteria left behind by your toothbrush.
Can I still eat steak with dentures?
It's entirely possible to enjoy a juicy steak with dentures, but your dentist will advise you to limit how often you have chewy meat. It will put extra wear and tear on your dentures, which can shorten how long they last. It can also lead to jaw and gum pain. If you can't resist a steak, cut it into smaller pieces to make it easier to chew. If you need a little extra stability, consider using an adhesive to hold your teeth in place.
Do upper dentures always cover the palate?
An upper denture that covers the roof of your mouth can diminish the way food tastes. Thankfully, dentures come in many styles, including palateless options. An upper denture can have a horseshoe shape, similar to one that's used for the lower arch or along with dental implants. Your dentist will discuss all your options to find the perfect style to meet your needs and preferences.
Schedule an Appointment Today
If you are in need of new dentures in Corpus Christi or are looking for a dentist to provide superior denture maintenance, don't hesitate to get in touch with Dr. Thompson's office. We offer partial and complete dentures in our state-of-the-art environment. Request an appointment today!