Meet Our Dental Team
Marna Radnor Pavelka, Dental Hygienist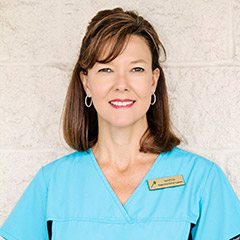 Marna has worked in the dental field since 1991, and she has been an integral part of our team since 1995. She loves working closely with patients in order to help them achieve their smile goals. Marna studied dental hygiene at Del Mar College, and she is certified in CPR. Outside the office, Marna is happily married and the proud parent of a son and daughter. Her family also includes 4 dogs and 2 horses. She enjoys spending time with her kids, dogs, and show horses, reading, jogging, and going to the beach.
Gabrielle (Gabby) Everett, Registered Dental Assistant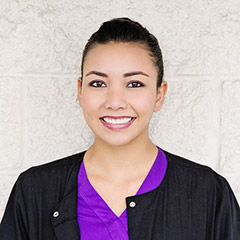 New to our practice and the dental field in 2014, Gabby loves working with our skilled team, and is always happy to help. She goes above and beyond to keep patients comfortable and well cared for and the practice running smoothly. Another graduate of the Del Mar College dental assisting program, Gabby is also nitrous oxide and CPR certified. In her spare time, Gabby enjoys hunting, fishing, exercising, listening to music, playing piano, and spending time with her tight-knit family.
Hayley Wood, Registered Dental Assistant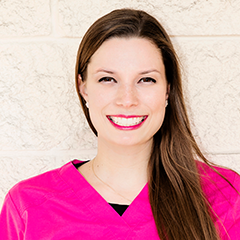 Hayley received her bachelor's of science from the University of Central Florida, then went on to attend dental assisting school at Del Mar College. She is specially certified in nitrous oxide and CPR. Hayley is originally from Canada, but she considers Jacksonville, FL her hometown. Her favorite thing about her job is seeing patients' smile transformations! Outside of dentistry Hayley enjoys hiking, traveling, and hanging out with her three dogs.
April De La Paz, Registered Dental Assistant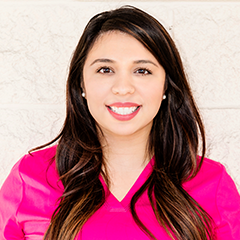 April received her dental assisting certificate from Del Mar College, where she also earned certifications in CPR and nitrous oxide. She is originally from Corpus Christi, where she attended W.B. Ray High School, and says her favorite thing about her job is building relationships with patients and working with our wonderful dental team. April loves the beach, listening to music, and especially dancing.
Carol B. Kocurek, Dental Hygienist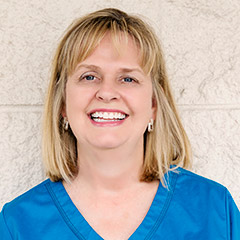 Carol has more than three decades of dental experience, and she has been with our team since 1991. She is dedicated to getting to know patients, building trusting care relationships with them, and strives to help them achieve all of their oral health goals. Carol studied at Del Mar College and Texas A&M University - Corpus Christi, and she maintains certification in CPR and dental sealants. A Corpus Christi native, Carol enjoys gardening, sewing, and cats.
More to Explore