Corpus Christi Children's Dentistry
When it comes to caring for our kids, we all do our best to keep them happy and healthy. Many of the good habits kids learn will help them throughout their lifetime, so instilling these good habits and teaching kids how to take care of themselves is very important. Teaching your kids to care for their smile with good at-home hygiene and regular dental office visits, may actually dramatically impact their oral and overall health throughout their lives. With improved oral hygiene, your child is less likely to experience painful dental emergencies, lose teeth later in life, or suffer from chronic and systemic illnesses like diabetes and heart disease. Not only does a good children's dentistry routine keep your child smiling, it also keeps them safe and healthy. If you and your kids live in or around the Corpus Christi community, John T. Thompson, DDS and his dedicated team invite you to learn more about the complete children's and family dentistry services we provide. Our office is warm and welcoming for patients of all ages. Contact our practice to find out more or schedule your child's dental appointment today.
Importance of Dental Health Education for Kids
At the Corpus Christi dental office of John T. Thompson, DDS, we are passionate about patient education. At every age, we know that an educated patient will feel more at ease and keep their smiles whole and healthy. That's true for kids too! We take the time to talk to kids about caring for their smiles at home and in our office. We will demonstrate the best way to brush and floss teeth and work with them to make sure they can care for their smiles at home. We will also answer you little one's questions (all of them!) and your questions too. Our knowledgeable team members can recommend the best oral hygiene products for your kids and family. Most importantly, we take the time to carefully explain any dental treatment before we begin. This greatly reduces fear and anxiety for young patients and helps to build positive associations with the dentist for your little one.
Comprehensive Care for Kids
We are here for all of your child's oral health care needs. From the eruption of their very first tooth, to sports mouthguards and wisdom teeth, our team is here for you and your family every step of the way. Some of the treatments we provide include:
Checkups & Cleanings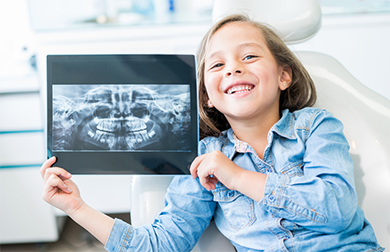 The most important part of any professional dentistry plan is the six month dental checkup. In addition to daily brushing and flossing, these checkups ensure that you and your kids keep healthy, natural teeth for a lifetime. We screen for common oral health issues, diagnose concerns in the earliest stages, and partner with you and your little ones to prevent oral health problems before they start.
Dental Sealants
One great way to keep your child's teeth healthy is to get dental sealants. These clear coatings seal out bacteria, plaque, and tartar, preventing tooth decay, gum disease, and other oral health issues. With one simple, painless application, your child's smile will be protected from numerous oral health issues for years to come.
Fluoride Treatments
Fluoride is an essential nutrient when it comes to developing and maintaining healthy, strong teeth. Your child likely receives adequate fluoride from drinking tap water, but if you choose not to drink water from the tap, we may recommend fluoride supplements to ensure healthy tooth development. Once primary and adult teeth emerge from the gum line, topical fluoride is necessary to keep teeth strong and healthy. Daily brushing with fluoridated toothpaste may be adequate, but we also offer professional fluoride treatments to keep your child's smile healthy.
Athletic Mouthguards
For young patients who are participating in athletic events, we recommend custom crafted sportsguards. These mouthguards fit your child's smile comfortably, and provide protection to keep their teeth safe during even high impact sports. We recommend kids (and adults) wear sportsguards during an athletic event where their smiles could come in contact with other players, hard surfaces, or sports equipment.
Developmental Screenings & Advanced Diagnostics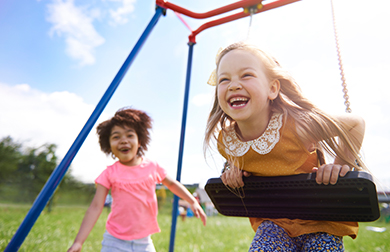 As your little one develops healthy primary and permanent teeth, it's important that their dentist carefully reviews the developing teeth, jaws, and other oral and facial structures to ensure they are developing properly. By capturing clear diagnostic x-rays and images and completing regular visual and manual examinations, we are able to diagnose and provide recommendations for early orthodontic intervention and other therapies to keep their smiles healthy and functioning perfectly.
Convenience of Family Care
We know how busy our families are. That's why our team is happy to see every member of your family on the same day. Scheduling multiple dental appointments in two or more practices is stressful, time consuming, and for many families, not possible. That's why we maximize your time by offering complete, comprehensive dentistry services all in one Corpus Christi dental office. That means in just one visit, every member of your family will receive the quality dental care they deserve, and you won't have to worry about taking numerous days away from your daily routine to keep your family smiling.