CBCT Scanner – Corpus Christi, TX
A Deep Look at Your Oral Health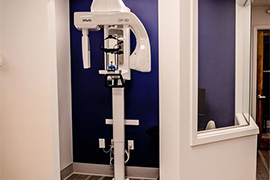 Often, we use digital X-rays to gain a greater understanding of a patient's health. Specifically, we use X-rays to get a glimpse beneath the gumline and at other places that are not possible to examine with the naked eye. In some cases, though, we need a greater level of detail than what digital X-rays can provide. That is where our CBCT scanner comes into play. It is an advanced form of imaging technology that can provide us with a deep look at your oral health. Read on below to learn more about it.
What Is a CBCT Scanner?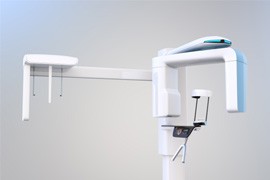 CBCT stands for "cone beam computed tomography." A CBCT scanner may also be called a CBCT machine, a cone beam scanner, or a cone beam CT scanner. However you refer to it, this form of technology is basically a high-powered X-ray.
It uses the same type of radiation as normal dental X-rays. However, the radiation is emitted in a cone-shaped beam. The machine is thereby enabled to capture extremely detailed, three-dimensional images of the area that gets scanned. In addition to providing us with information about your teeth and jawbone, it can also show us your nerves, connective tissues, and other important aspects of your oral anatomy.
What Is a CBCT Scanner Used For?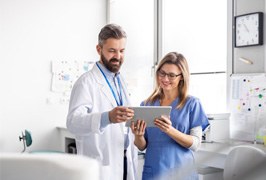 A CBCT scanner has several useful applications. In our practice, we often use it during the dental implant process. For example, we may recommend that you undergo a scan during your initial consultation. It can let us know whether your jawbone is strong enough to support dental implants and whether you have any unusual features that might make your implant surgery more challenging than usual.
With the help of information from your CBCT scan, Dr. Thompson will be able to place your implants precisely where they belong — at the correct location, angle, and depth. This minimizes the risk of problems and maximizes the chances that you will enjoy a successful treatment outcome.
We can use the CBCT machine again after your implants are placed. We may use it to monitor how well your implants are bonding with your jawbone throughout the process of osseointegration. If you ever run into any problems with your implants (which is rare), we can use the scanner to diagnose the problem and recommend your next steps.
What to Expect During the Scanning Process
Have you ever gotten a CT scan in a hospital? If so, you can expect a somewhat similar process with a CBCT machine. Beforehand, you may be asked to remove any jewelry or other objects that could interfere with your results. Then, you will be positioned in the scanner, and all you have to do is remain still while it completes its job. Usually, scans take less than one minute to complete.
The scanning process is completely painless and noninvasive. Plus, although the machine emits more radiation than a typical X-ray, it is still quite safe. It fact, it uses much less radiation than a normal CT scanner.
implants further with you. If you have additional questions or you want to move forward with treatment,
contact our office
to schedule your consultation with your trusted implant dentist in Corpus Christi.