Implant-Retained Dentures – Corpus Christi, TX
Enjoy the Security of Dental Implants
Losing all your natural teeth is devastating to your self-esteem and your quality of life. If you are like many people, you chose traditional dentures to replace your missing teeth. Although you had high hopes for them to closely mimic your natural teeth, they never truly felt like your own. You are not out of options. You can enjoy the next best thing to your real teeth with dental implants in Corpus Christi. You can eliminate slipping and irritation permanently.
How Do Implant-Retained Dentures Work?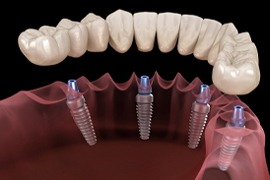 Traditional dentures are made from an impression of your mouth to create an acrylic base to hold your prosthetic teeth. It is held to your gum tissue using suction or an adhesive. Several improvements in dentistry over the years have improved their appearance and their fit, but there will always be some limitations.
Implant-retained dentures eliminate the disadvantages of traditional dentures. Strategically placed dental implant posts are surgically inserted into your jawbone to provide your denture with unmatched stability.
Am I a Candidate for Implant-Retained Dentures?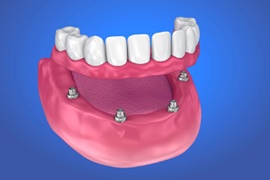 The long-term success of dental implants relies on your jawbone's ability to fuse to the implant posts and remaining infection-free. As a result, you require a consultation with your dentist in Corpus Christi to ensure they are the right choice for you.
If you have tried traditional dentures in the past but were dissatisfied with the results, you may be a candidate for dental implants. You must have good oral and general health to ensure there are minimal risk factors for implant failure. In addition, your jawbone must be able to support the posts so you will need a CT scan to assess your jaw's density.
The Implant-Retained Dentures Procedure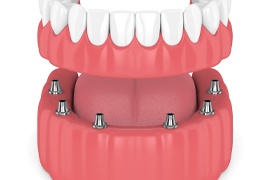 The process to receive dental implants will involve multiple stages. After your initial consultation, you may need additional procedures before your implant placement surgery, such as a sinus lift or bone grafting. Once the foundation is established for your new smile, you are scheduled for your oral surgery.
Sedation or anesthesia is used as your gum tissue is opened to expose your jawbone. A hole is drilled into the bone for each post to be inserted. Depending on the type of implant-retained denture you are using, we may fit you with a temporary prosthetic or your gum tissue is sutured closed.
It takes several months for your jawbone to fuse to the posts. This ensures the long-term success of your new smile. After you have fully healed, special abutments are attached to the posts to connect your permanent denture.
Benefits of Combining Dentures & Dental Implants
Securing your denture with dental implants allows you to enjoy a variety of advantages, such as:
Over a 95% success rate.
Restore as much as 70% of your biting force.
Looks natural.
Preserves your jawbone's density.
Supports your facial structures.
Improves your oral health.
Cost-effective, long-term solution.
Easy maintenance and care.
Schedule an Appointment Today!
If you are ready for a functional, beautiful smile, it is time to see if dental implants are right for you. Contact our office today to schedule your consultation for implant-retained dentures.