Multiple Tooth Implants – Corpus Christi, TX
Saying Goodbye to Gaps for Good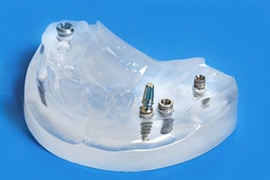 Multiple dental implants in Corpus Christi can do more than just improve the look of your smile. When several teeth go missing, it can take a serious toll on your oral health if left untreated. When Dr. John Thompson surgically places each implant into their respective sockets, these titanium posts mimic the root of your tooth and stimulate your jawbone, keeping your oral health in check and void of any additional problems missing teeth can cause. To find out if you are eligible for multiple tooth implants, contact us to schedule a consultation today.
Non-Implant Tooth Replacement Options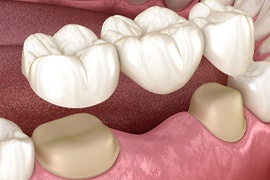 If you are considering a non-invasive procedure to replace your missing teeth, you can opt for one of the following treatments:
Dental Crowns and Bridges – Using a custom-made dental crown and bridge fixture, we will use the natural teeth on either side of the gap as anchors for the prosthetic. We will need to file down these teeth in order for the bridge to properly fit. Fusing together multiple dental crowns, the two on the ends will fit over your natural teeth while the others will sit on top of the gums to restore the look of your smile.
Partial Dentures – When teeth are missing but are not consecutive, a partial denture can be created to work as a puzzle piece. Using a gum-colored base with attached artificial teeth, it will be secured into place using clasps or clips that attach to your natural teeth.
Full Dentures – Patients who require an entire arch to be replaced can have luck with full dentures. Made from the same gum-colored base, the artificial teeth will sit on top, and your natural suction will hold it in place.
The Dental Implant Process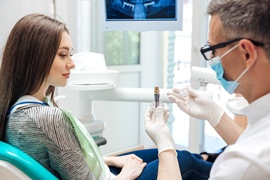 In order to receive multiple dental implants, your dentist in Corpus Christi will begin by scheduling a consultation with you to examine your mouth in its entirety. Using X-rays and a visual examination, he will create an individual treatment plan to address the missing teeth. He will take impressions of your smile and send them off for dental lab technicians to create and customize your dental restoration. They will match the size, shape, and color to ensure a blended smile once everything is put into place.
After reviewing your oral and overall history and determining that your jawbone is strong enough to hold up the implants and respective restoration, Dr. Thompson will begin by surgically placing each implant into the jawbone, carefully positioning it to ensure a strong foundation. Once he has closed the area, you will be sent home to spend the next several months recovering. During this time, it is important that you heal properly and osseointegration occurs. This is when the implants fuse to the bone and surrounding tissue.
Once you've fully healed, you will return to have the final phase of your implant placement completed. It is at this time that Dr. Thompson will secure an abutment, which is a small appliance that connects the implant to the restoration, before securing the implant-supported bridge into place.
Benefits of Implant-Supported Dental Prosthetics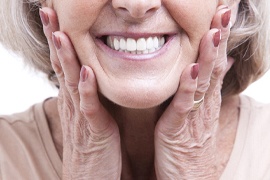 Improved stability
Greater functionality
A more aesthetically pleasing smile that increases your confidence
Clarity when speaking and greater ability to chew and eat
No chance for decay
Prevent changes in your facial shape and appearance
A longer-lasting restoration that can have you enjoying your newly created smile for decades or longer