May 18, 2020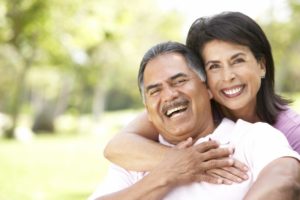 Now that summer is just around the corner, are you ready for all the family get-togethers, backyard barbeques, and exciting warm-weather activities? Unfortunately, missing teeth or loose-fitting dentures can make it difficult to fully enjoy your favorite aspects about summertime. Thankfully, dental implants in Corpus Christi can help you rebuild your beautiful, complete smile and get back to living your life to the fullest. Here are five ways dental implants can help you greet summer with your best sunny smile.
1.) Show Off a Complete, Sunny Smile
No matter how many teeth you're missing, you can replace them with custom-made dental implants that are designed to blend into your smile seamlessly. They're crafted out of dental porcelain, which is a durable, stain-resistant material that mimics the appearance of natural tooth enamel. In fact, they look so lifelike that most people can't distinguish them from the rest of their teeth! You can feel free to show off your beautifully rebuilt smile in the sunshine without worry!
2.) Enjoy All Your Favorite BBQ Foods
Missing teeth and dentures alike make it more difficult for you to eat tough, chewy, or hard foods. With dental implants, you can continue to eat all your favorite foods. They are held securely in place with small titanium posts, which allows you to regain at least 70% of your natural biting force. Thanks to this firm foundation, you can eat all the barbeque steak and corn-on-the-cob as you like.
3.) Focus on Your Favorite Summer Activities
Are you worried about showing that gap in your smile while talking? Do your dentures slip out of place when you laugh? These hinderances can take away from truly enjoying a fun or memorable moment. The posts that anchor your dental implants in place are fused into your jawbone. This means you'll never feel them slip, shift, or pop out of place as you go about your day. They're so comfortable, you may even forget they're there!
4.) Keep Looking Young in the Summertime Sun
Dental implants prevent premature aging. As soon as a tooth goes missing, the jawbone begins to deteriorate, which can give the facial features a sunken, aged look. To stop the bone loss, dental implants replace the roots of a tooth as well as its crown. This continues to stimulate blood flow and keep the jawbone healthy and strong.
5.) Protect Your Oral & Overall Health All Year Long
Rebuilding your smile with dental implants is about much more than looking good for those summer family photos. A gap in your smile can collect plaque and bacteria, which can lead to oral infections. Similarly, dentures that don't fit well can irritate your gum tissues and cause jaw discomfort. Dental implants can easily be kept clean with routine brushing and flossing, just like your natural teeth. Not only does this lower your risk of tooth decay, gum disease, and oral infections, but it protects your overall health as well. A properly cleaned mouth lowers your risk of respiratory infections, digestion issues, and heart disease.
Fully enjoy summer with a complete, beautiful, and functional set of pearly whites! Dental implants can help you smile comfortably and confidently through every season of your life.
About the Author
Whether you're missing one tooth, several teeth, or an entire arch, Dr. John T. Thompson of Corpus Christi, TX can help you regain your beautiful smile with dental implants. Thanks to his advanced training, he can complete every step of the dental implant process in his office instead of referring you to a new, unfamiliar specialist. This way, he can personally ensure you are as comfortable and confident as possible throughout your treatment. If you'd like to find out if dental implants are right for you, feel free to contact him via his website or at (361) 242-3151.
Comments Off on Get a Sunny Smile with Dental Implants This Summer
No Comments
No comments yet.
RSS feed for comments on this post.
Sorry, the comment form is closed at this time.