January 8, 2023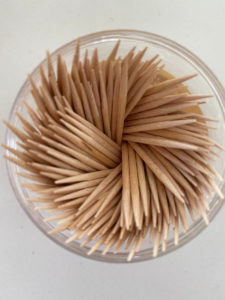 Toothpicks can be found in households throughout the country. An American businessman named Charles Foster began the mass production of toothpicks in the nineteenth century after a trip to Brazil, where he noted the people had amazing smiles. They credited their dental health with using toothpicks. Today, they are used for various reasons, like removing food from teeth after eating or chewing on them out of habit. No matter the reason, are they good for your teeth? Your emergency dentist will recommend a few alternatives to keep your smile healthy instead of reaching for a toothpick.
Oral Health Risks of Toothpicks
Toothpicks are convenient to have around the home, making them a logical choice to remove food particles from between teeth. While they are handy, using them isn't without risks. You can introduce bacteria to your mouth, damage dental work, and cause oral injuries.
Toothpicks can break or splinter, causing injuries to your gums and soft tissues. Small slivers can also get trapped in your gums or between teeth, which can increase your risk of infections. If the toothpicks aren't stored in a clean environment, the likelihood of infections can increase.
In some cases, the small pointed sticks can compromise existing dental work, like fillings and veneers. A gap in the restoration can cause it to pop off if the toothpick is placed in the space.
Dentist-Approved Alternatives
If you have food or an object caught in your teeth, your dentist will recommend skipping toothpicks. Instead, it's better to use high-quality dental floss that has earned the American Dental Association's Seal of Acceptance. Waxed varieties are easier to fit between teeth to free the object.
Plastic-handled flossing sticks are also a great option. Some have tipped ends that can be used to dislodge food. They are softer than wooden toothpicks, so they are less likely to cause damage.
A waterflosser is also a great option. It emits pressurized water to dislodge food and other particles from the most difficult-to-reach areas in the mouth. You won't have to worry about injuring the gum tissue to avoid inflammation and infections.
If methods at home aren't able to free the object, it's time to turn to a professional. Never use metal, sharp, or pointed objects to remove something caught in your teeth. Don't wait to see if food particles will dislodge on their own. Instead, contact your dentist for an appointment.
They'll assess the situation to create a personalized strategy to safely remove it, so you can get back to your day.
Although toothpicks have been used for generations, don't place your smile at risk. It's better to follow your dentist's advice to maintain a healthy, beautiful smile.
About Dr. John T. Thompson
Dr. Thompson earned his dental degree from the Baylor College of Dentistry and has regularly continued his education to provide advanced services. He is a proud member of many professional organizations, including the Academy of General Dentistry. If you need a dentist in a hurry, request an appointment through our website or call (316) 248-2127.
Comments Off on Are Toothpicks Bad for Your Teeth?
No Comments
No comments yet.
RSS feed for comments on this post.
Sorry, the comment form is closed at this time.