August 20, 2019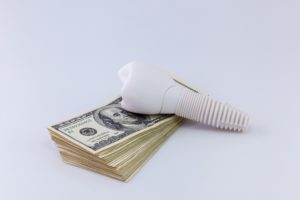 Are you ready to enjoy a complete smile again? You've heard about the benefits of dental implants in Corpus Christi, but you've also learned more about their cost. Now, you're not sure if you want to spend that much. It's no secret they cost more than traditional options upfront, but they are actually more affordable long-term. You can make a true investment in your smile and your quality of life with dental implants.
Why are Dental Implants Worth the Cost?
Over 500,000 people per year are turning to dental implants to replace their missing teeth. Besides their 95% success rate, they also provide a variety of advantages that aren't possible using traditional prosthetics. Although you may pay more upfront, you'll enjoy superior benefits you can't achieve with any other treatment, including:
Proven to last for decades. Dental implants are the most reliable tooth replacement option that can last forever with the right aftercare.
Feels natural to enjoy your favorite foods. Your jawbone supports the posts to create a stable foundation for your restoration. You'll regain as much as 70% of your natural biting force, and you'll never need to worry about any slipping or irritation again.
Decreases your long-term dental expenses. Dental implants stimulate your jaw to encourage new bone growth. This preserves its density to stop dental drift. You'll have a decreased risk of tooth decay, gum disease, and additional tooth loss to prevent the need for a costly treatment down the road.
Promotes a healthy smile. Dental implants don't rely on any remaining natural teeth to support them. This means you won't have to alter healthy teeth or put them under added strain to maintain your smile.
Enjoy enhanced confidence. You can speak, smile, and chew confidently because your new smile will look natural. Your teeth will stay firmly in place, so you'll never need to feel insecure during social gatherings again.
How Much Do Dental Implants Cost?
There's no set amount you can expect to pay because the cost is determined by your individual treatment plan. There are various things your dentist in Corpus Christi considers when determining the cost, such as how many teeth you're missing and if you need any additional procedures. They take the time to explain the fees associated with each step in your plan, so you know exactly what to expect. This can make your treatment more affordable because it gives you more time to pay. There are many ways to pay for your new smile, like using your insurance or CareCredit.
Invest in a Complete Smile
You can make a smart choice for your smile and your quality of life. Invest in dental implants to replace your missing teeth.
About Dr. John T. Thompson
Dr. Thompson is proud to provide high-quality dental care to his patients. He is supported by extensive training and qualifications in several areas of specialty, including dental implants. If you're ready to rebuild your smile, he offers the affordable, effective solutions you need. Contact our office today to schedule your consultation.
Comments Off on Are Dental Implants in Corpus Christi Worth the Cost?
No Comments
No comments yet.
RSS feed for comments on this post.
Sorry, the comment form is closed at this time.