November 4, 2022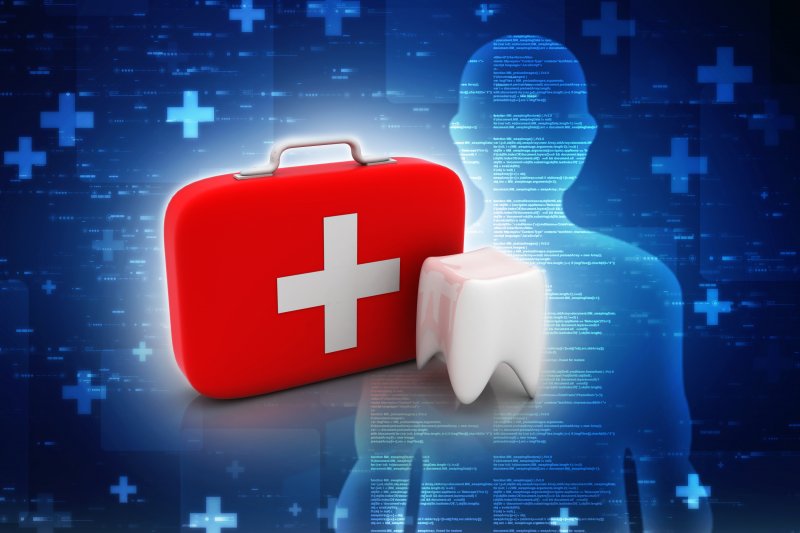 Dental emergencies can happen at a moment's notice! From a knocked-out tooth to a severe toothache, an unexpected oral health occurrence can leave you flustered. Preparing a dental emergency kit allows for immediate care and minimizes panic. Relief and treatment can be right at your fingertips until a visit to the dentist for emergency care is possible. Here are the essentials recommended by your dentist in Corpus Christi for your dental emergency kit!
Dental-Related Essentials
Many people have a household emergency kit, but it typically is not equipped with certain dental emergency must-haves. For oral health emergencies, the following will be very helpful:
Dental mirror— This handy tool will enable you to view the teeth and gums that are located further in the back of the mouth. You can buy one with an attached light or purchase a separate small flashlight for a better view of the dark corners of the mouth.
Dental wax— If anyone in your family wears braces, dental wax can come in handy if the metal wires or brackets are causing discomfort. It soothes any irritations against the gums and cheeks. It can be used to temporarily reattach a dislodged tooth or cover the surface of a tooth that is chipped or broken.
Orabase—This dental cream helps to heal mouth ulcers and canker sores.
Floss— Food particles stuck between your teeth can lead to mild to severe discomfort. With floss available, you can dislodge any irritating debris between the teeth.
Salt– While not a good solution for abrasions on the skin, warm salt water is very useful for sores and open wounds in the mouth. The bacteria in your mouth are sensitive to salt, so it acts as a disinfectant and helps diminish oral pain.
Emergency dentist's contact information—When a dental emergency occurs, you want to be able to contact an emergency dentist to make an appointment as soon as possible. Research local dentists that offer emergency dentistry and save their information.
General Medical Supplies
You want to have general medical supplies available in your kit. Medical-grade gloves are always important in medical occurrences. It is wise to wear gloves anytime you or someone else has a dental emergency, especially when they are bleeding. They help to prevent the spread of infections and germs. Cotton balls and gauze pads are also useful items. These soft items come in handy whenever there is a cheek injury or any bleeding. Pack them in a plastic bag or container so they can stay clean and ready for use.
Equipped with these helpful items, you will be prepared for anything that comes your way if you and your loved ones have a dental emergency!
About the Author
Dr. John Thompson DDS has served the smiles of Corpus Christi and surrounding areas for almost 40 years. He is an active member of several dental associations and was awarded Fellowship in the Academy of General Dentistry, an honor that places him in the top 7% of all dentists. With a 5-star rating on Google that exemplifies his personal care, he can help you with any of your dental emergencies! To schedule an appointment, contact him through his website or call (361) 242-3151.
Comments Off on An Ultimate Guide to a Dental Emergency Kit
No Comments
No comments yet.
RSS feed for comments on this post.
Sorry, the comment form is closed at this time.