April 13, 2023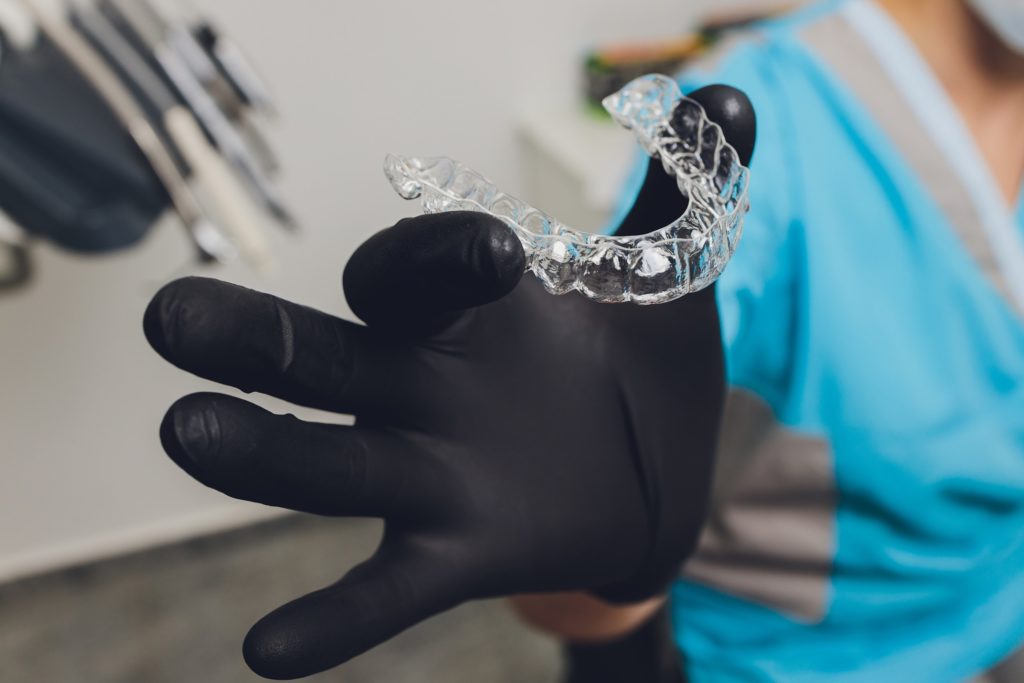 Were you drawn to Invisalign because of the discreet, see-through trays? You're not alone! Although this is one of the largest selling points of this orthodontic treatment, many patients forget that it takes a bit of work to keep them clean and clear. If you want to keep yours in tip-top shape, then read on to learn the common causes of yellow aligners (and what you can do to prevent them).
Culprit 1: Drinking Coffee with Your Aligners In
Whether you love a hot cup of coffee in the morning or enjoy having an iced coffee as an afternoon pick-me-up, it's important that you always remove your aligners first. Even if you use a straw, this dark-colored beverage can stain your trays, leaving them looking yellow and dull. In short, to keep your aligners as clean as possible, it's best to remove them before eating or drinking anything other than water.
Culprit 2: Soaking Your Trays in Colored Mouthwash
In an effort to remove stains from their aligners, many patients deviate from their usual routine and attempt to soak them in a glass of mouthwash. Not only should mouthwash not be used to clean your aligners, but their dark color often can leave them more stained. If your aligners have become significantly discolored, then try using the cleaning crystals in your Invisalign welcome kit. These are designed specifically to give your trays a deeper clean, and all you have to do is add water!
Culprit 3: Not Cleaning Your Aligners Frequently
Rinsing your aligners each time you take them out is a good habit. However, you need to clean them with water and a soft-bristled toothbrush to thoroughly remove food particles, plaque, and saliva. For the best results, clean your aligners after each meal!
Culprit 4: Being Inconsistent with Your Oral Hygiene Regimen
Simply put, if you don't take good care of your teeth and gums, stubborn stains will continually resurface on your aligners. To prevent that from happening, brush and floss after each meal – even if you're away from home. Having an on-the-go dental hygiene kit can make this commitment significantly easier!
About the Doctor
Since earning his dental degree in 1985 from the Baylor College of Dentistry, Dr. John T. Thompson has helped countless patients in Corpus Christi achieve smiles that are as healthy as they are beautiful. His commitment to continuing education and providing those in his treatment chair with the absolute best has also resulted in a number of impressive accolades, from being awarded Fellowship in the Academy of General Dentistry to being named Texas Super Dentist for 2022 by Texas Monthly magazine. If you are interested in Invisalign for yourself or you would like to learn more about life with Invisalign, don't hesitate to visit his website or call (361) 242-3151.
Comments Off on 4 Common Causes of Yellow Aligners (& What You Can Do to Prevent Them)
No Comments
No comments yet.
RSS feed for comments on this post.
Sorry, the comment form is closed at this time.