February 25, 2020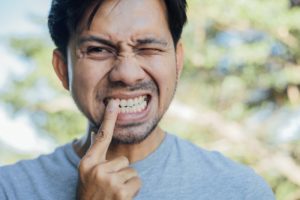 Experiencing pain after getting dental implants in Corpus Christi doesn't typically happen. When it does, there are usually symptoms or tell-tale signs present in your mouth to alert you that you need to go to your dentist. In these situations, it's vital to have an experienced implant dentist in Corpus Christi to help solve the problem. Read on for five reasons you may have implant pain or are experiencing some discomfort after your procedure.  
How Much Pain is Normal After Implant Surgery?
Depending on how many dental implants you need to have placed, the amount of discomfort or pain that you feel after your procedure can vary. Even though dental implants boast an impressive 98 percent success rate, it's important to note any out-of-the-ordinary symptoms and feelings. Here are some typical side-effects that patients experience after their procedure:
Swelling of the face or the gums
Bruising of facial skin and gums
Pain (although this can typically be addressed with over-the-counter pain medication)
Minor bleeding around the implant site
Depending on the extent of your surgery, your dentist may provide you with prescription medication to take and special aftercare instructions. These are important to keep up with.
5 Potential Causes of Implant Pain
Even though dental implant pain is an uncommon issue for patients to deal with, it's still a good idea to know what signs to look for so you can quickly get them addressed and prevent any additional damage or implant failure. Here's what can cause dental implant pain in Corpus Christi:
A loose implant that hasn't properly integrated with the jawbone.
A loose screw inside the dental implant.
Infection at the implant site.
Implant failure caused by your body rejecting the post.
Nerve damage that occurred during surgery.
When Should You Visit Your Dentist?
If you're experiencing out-of-the-ordinary symptoms, it never hurts to contact your implant dentist in Corpus Christi to ask if it's normal. The sooner you address these issues, the higher the chances that you'll be able to prevent implant failure and properly heal and recover from the procedure. If you experience pain and discomfort after having your implants for a long period of time, don't hesitate to immediately visit your implant specialist, because this is likely due to later implant failure. In many cases, all that needs to be done to help stop this discomfort is to remove, clean, and reinsert the implant.
If you're worried about the symptoms you're experiencing after your implant surgery, contact your dental office immediately. They'll be able to put your mind to rest or fix the problem before it turns into something larger, letting you enjoy your newly restored smile for decades to come.
About the Author
Dr. John Thompson earned his D.D.S from the Baylor College of Dentistry in 1985. Since then, he's had the opportunity to help transform countless patient's smiles by using the latest technology, techniques, and treatments available to him. He was honored by Texas Monthly Magazine as a Texas Super Dentist in 2018 and 2019. For questions or to schedule a consultation to learn how dental implants can help restore your grin, visit his website or call 361-242-3151.
Comments Off on 5 Causes of Implant Pain
No Comments
No comments yet.
RSS feed for comments on this post.
Sorry, the comment form is closed at this time.