July 8, 2020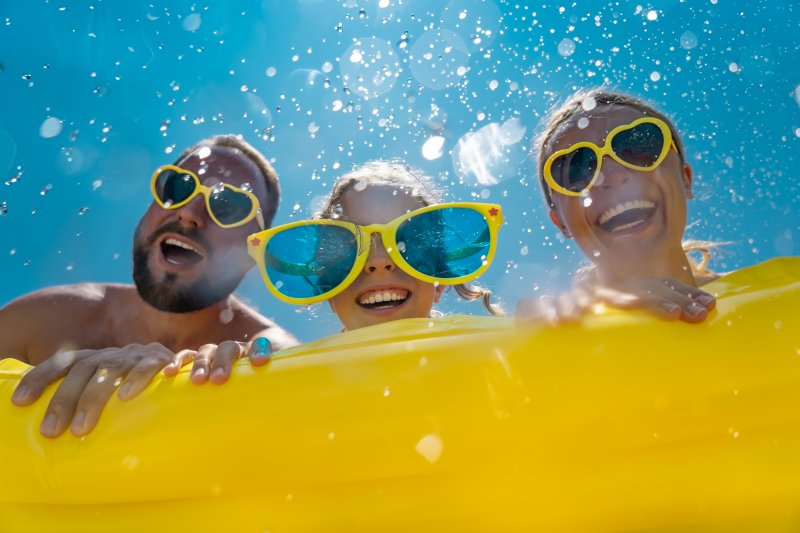 Summer is here, and it is hot! After following the stay-at-home orders for the past few months, you may decide to take advantage of what is left of your summer with days by the pool and barbecues with your family. While enjoying some fun in the sun is a crucial part of summer, it is important to protect your teeth in the process so they don't turn into fall cavities. Your dentist in Corpus Christi shares four summer activities that may harm your smile.
Too Much Time in the Pool
As the temperature rises, a trip to the pool becomes more and more a necessity. Although swimming is a great form of exercise and a natural stress reliever, the chlorine can make your teeth vulnerable to damage and decay. While the chlorine itself isn't inherently harmful, a poor pH balance can wear down the enamel of your teeth upon exposure. To protect your teeth, without sacrificing your summer fun, make sure to check that the pH balance in your pool is between 7.2 and 7.8 before jumping in!
Consuming High-Sugar Beverages
When the summer sun is beating down on you, it can be tempting to reach for an ice-cold glass of soda or a refreshing cup of sweet tea. Although delicious, these beverages are often jam-packed with sugar that can harm your teeth. Once these sugary drinks are exposed to the bacteria in your mouth, they form acids that eat away at the enamel. This can leave you vulnerable to discoloration and cavities. Therefore, opt for sugary drinks on special occasions instead of making them a daily treat.
Frequent Snacking
Popsicles by the pool, popcorn at the movies, and candy on road trips are all ingredients for fun summer memories. However, frequent snacking allows food particles to linger on your teeth for hours before you properly brush and floss. By that time, the damage may have already been done. In fact, plaque begins building up on your teeth only 20 minutes after eating! Therefore, it is important to limit your snacking throughout the day to protect your teeth from dental damage.
Summer Sports
Did you know that over 5 million teeth are knocked-out each year in sports-related activities? Whether it is a contact or non-contact sport, it is important to protect your teeth from dental injuries by wearing a mouthguard. Although there are standard, one-size-fits-all mouthguards at your local sporting goods store, they don't provide the same protection that the custom ones do. Fortunately, your dentist can have you fitted for a mouthguard that is designed to protect your unique smile. That way, you can play to your heart's desire without compromising your teeth!
Summer is meant for fun in the sun, not hours spent at your dentist's office. Make the most of your summer memories by enjoying all this season has to offer while also protecting your smile. That way, your pearly whites are as healthy as they are beautiful during all of your summer activities!
About the Author
After graduating with his bachelor's degree from the University of Texas in Austin, Dr. John T. Thompson earned his doctorate from the Baylor College of Dentistry in 1985. Over the last three decades, Dr. Thompson has become a member of many prestigious organizations, like the Texas Dental Association, and has served as President of the South Texas Academy of General Dentistry. He was also awarded a Fellowship in the Academy of General Dentistry, which places him in the top 7% of all dentists. If you would like to speak with him about preventive care to protect your smile this summer, visit his website or give him a call at 361-242-3151.
Comments Off on 4 Summer Activities That May Harm Your Smile
No Comments
No comments yet.
RSS feed for comments on this post.
Sorry, the comment form is closed at this time.