May 20, 2022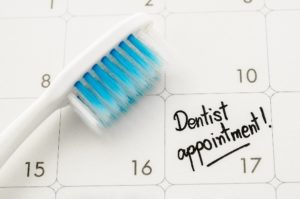 If you've lost all your natural teeth, dentures are a tried-and-proven method of restoring a complete, functional smile. Although you might not have to worry about cavities anymore, you will still need to see your dentist every 6 months. Tooth decay isn't the only danger to your oral health. Here are 4 reasons to commit to routine dental checkups with dentures. 
1. Early Diagnosis
Your oral health is complex, which includes more than just your teeth. Dental problems can still occur long after you've lost your last tooth, like oral cancer or gum disease. Visiting your dentist twice a year allows them to monitor your oral health to detect any concerns while they are still small to keep your mouth and body healthy. They can even spot issues with your dentures to ensure they continue to look and feel their best.
2. Protect Your Investment
Dentures are made of durable materials, but they won't last forever. Typically, they need replacing every 5 to 7 years. Routine visits can prolong the lifespan of your new teeth. Your dentist can make the necessary adjustments and repairs to keep your dentures fitting their best.
3. Better General Health
Your oral and general health are connected. The link doesn't stop once you lose your teeth. In fact, a healthy smile is crucial for denture wearers. Your mouth is the perfect environment for bacteria that can lead to infections in the mouth. An overabundance of oral bacteria can also increase your risk of respiratory issues. Your dentist can give your denture a good cleaning to remove anything left behind by your toothbrush to safeguard your mouth and body.
4. Lower Oral Health Expenses
Keeping your mouth healthy lessens the risk of needing a costly procedure later to reduce your long-term oral health expenses. Not to mention, you'll get the most out of your denture, so you won't need to pay for replacements as often.
Maintain a Healthy Smile
Regular checkups with your dentist are only half the care your mouth and dentures need. A strong oral hygiene routine is equally important. Use a soft-bristled toothbrush and a mild hand soap to clean your dentures after eating. If you can't get to your toothbrush, rinse them with water. It's important to stay hydrated to keep your mouth moist to combat bacteria. Drinking a glass of water will also cleanse your mouth in between brushing. Don't forget to soak your dentures in a nightly solution to kill any bacteria left behind. It will also keep your dentures moist to prevent them from warping.
With the right care at home and from your dentist, your new teeth can serve you for years.
About Dr. John T. Thompson
Dr. Thompson earned his dental degree from the Baylor College of Dentistry and has completed countless hours of continuing education in advanced specialties. He provides the latest tooth loss solutions to rebuild healthy smiles. Whether you need dentures or a checkup, he can help. Contact our office today to schedule an appointment.
Comments Off on 4 Benefits of Dental Checkups with Dentures
No Comments
No comments yet.
RSS feed for comments on this post.
Sorry, the comment form is closed at this time.